All countries have a few or more than a few sick industries, some into hundreds and thousands. Pakistan is in the league of hundreds. Some become sick due to market dynamics and some are plain mismanagement. In such sick scenario, the employees lose job, governments lose tax money, investors lose their reputation and dreams but the banks are the major losers. For every investment that has become a non-performer banks have 50 to 80% loss because debt/equity ratio is as such. A number of sick units do recover, but with a plan. Disney went sick and defaulted 11 times only to become No 1 entertainment center of the world. In Pakistan, there are more than 1000 sick industries of which about 200 are in the public sector. Major banks have lost some Rs 1,500 Billion of which Rs 770 Billion in principal. In July 2016, the Government enacted Corporate Restructuring Companies Act-2016 and Rules were approved by SECP in 2019. These are not perfect documents, but something is better than nothing. In 2018, the Finance Division made a smart move and incorporated 'Sarmaya Pakistan Company Ltd' to consolidate all the sick industries under one roof and do something with them. Advertisement appeared for CEO position henceforth. But like any good initiative, the Sarmaya Pakistan also was forgotten. In Dec-2019, ten large banks formed a company to deal with the sick industries, namely Pakistan Corporate Restructuring Company Ltd. (PCRCL) to give a system impetus to revive and/or sell the non-performing assets (NPA) i.e. the sick units to recoup the NPL (non-performing loans). It is a remarkable initiative by the top ten banks, indeed. PCRCL need to create a think tank besides the BOD to steer it to success. The initial authorized capital of PCRCL is Rs 500 million, although it is low yet a good start. A CEO has been hired and perhaps going through initial teething problems as anyone would go through. There are discussions in the corridors of banks, SBP and government that NPL (non-performing loans) will rise due to many reasons (I hope not); some self-inflicting and some otherwise. Since one year the author has studied and analyzed a few NPLs (Rs 100 Billion) and come to a conclusion that these can be revived. Extending the analysis further, may prove that a large number of the sick industries can be revived; only that specialized 7+10 CEOs with track record need to be engaged.
Although at present one PCRCL is okay to start with but the consortium of ten banks need to open some 20 similar companies to make their efforts a success story. One PCRCL cannot successfully handle a portfolio of Rs 770 Billion. It can perhaps work as a holding company for 7 sub-holding companies. Then these 7 CEO have to control and supervise 10 to 15 operational CEOs who will actually be CEOs of one or more sick industry. Holding and sub-holding companies normally have small but smart human resource to manage the "Wellness" of the companies. A sick industry has multi facet issues; after sneeze comes cough then runny nose followed by sore throat then chest congestion is obvious. Some enter the boundaries of pneumonia and coma. Sick industries generally have similar and all problems associated with them; poor management, nepotism, technical, inefficiency, waste, high turnover of HR, mounting debt, non-payments of debt and principal, high KIBOR rate of borrowing for working capital is the icing on the cake enough to strangulate already sick units. PCRCL needs to develop sectoral medicine and then genetically modify it for each factory and business. One model may not fit all.
PCRCL (assuming it to be a holding company) would need to develop a recipe of cure for each of the sub-holding companies and each of the sub-holding companies would need to develop Wellness for each of the operational companies. Of many recipes to success, "The Wellness Report" will be one major source of monitoring and steering to success. Information is key to success of PCRCL. The Wellness Reports would be the tool to critically and efficiently achieve success. PCRCL may sell the NPA on '"as is where is basis" or it can revive to get a better fair and reasonable price by making the it attractive. However, just selling the assets will only fetch the land price and machinery by weigh of scrap; which the banks could have done but the mandate of PCRCL should be to revive the sick industry and then sell.
A Wellness Report is monitoring of vital signs, such as btu/unit of commodity UOC, kwhr/UOC, sick leaves/UOC, overtime/UOC and so on. As an example, following tables will give the banks (owners of PCRCL) and government (owners of Sarmaya Pakistan) how a major listed company doomed to bankruptcy was revived.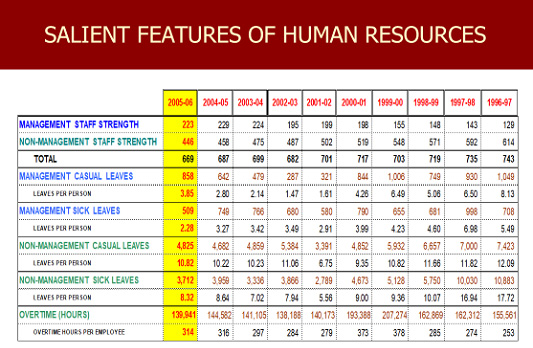 The aforementioned tables are just a few monitoring information. It may be noted that non-management sick leaves and steam use were cut in half. The whole spectrum was supervised to bring the company from darkness of sickness to a profitable company. Moral of the story: Happy shareholders, happy officers, happy staff, happy union, happy government. The company henceforth expanded to other very profitable ventures.